A series of digital models were generated to be tested for quantities to be used as input parameters. The condition of the interior space in terms of lighting and thermal comfort was of primal concern during this phase of the design. These conditions can be controlled in the interior through the generated skin.
Interior formal elements were chosen from the AnaHYBIOS models to be introduced as final geometry generators. The final geometry in this case being composed of spatial instances where the instance is shaped by the effect of force on matter to produce an environmentally controlled space. A space that is affected by the exterior weather conditions in a specific location. Methods of organizing these elements and clustering them were revised.
Limitations of the material system were considered while the conditions are set for the mesh relaxation algorithm to produce desirable spatial outcomes. Different programmatic scenarios were sketched to anticipate the pragmatic function of the generated spaces. Perceptual thresholds were created by introducing the spatial elements at specific instances.

One major limitation of the HYBIOS system is the amount of vertical distance needed to achieve a habitable floor area. That extra height clearance however, has the capability of creating a stack effect for natural ventilation within the building. The geometry of the solar chimneys have to be tested and oriented according to surrounding weather conditions.
Iterations of the initial algorithm were generated to be tested. The first two spaces were generated based on a hypothetical program, that has similar areas to a patch of the overall proposed program.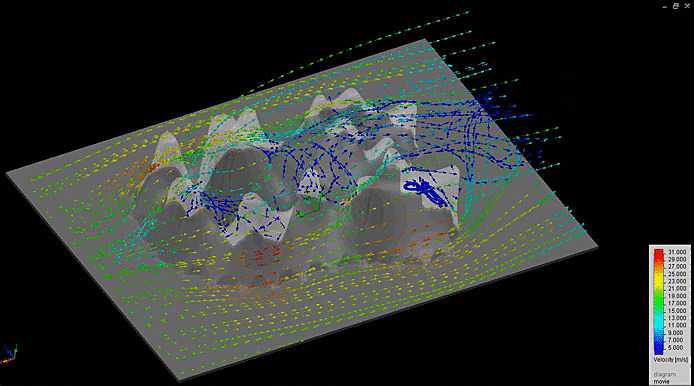 The morphology of the exterior skin was tested for straight and inclined solar chimneys, it became clear that the chimneys have to be oriented towards the wind source and away from the sun to reduce the stagnation of wind on the exterior and improve the stack effect inside the building.
The third and fourth prototypes were tested for their interior spatial condition, starting by shifting the ground planes of each program to create more differentiation between the parts.
Plate stress tests were carried out on the form using strand7 to determine the thickness of the concrete shell.
The emergent interior space became a well-lit, well ventilated space and the qualities of the previous physical models started to show in the interior of the digital models.